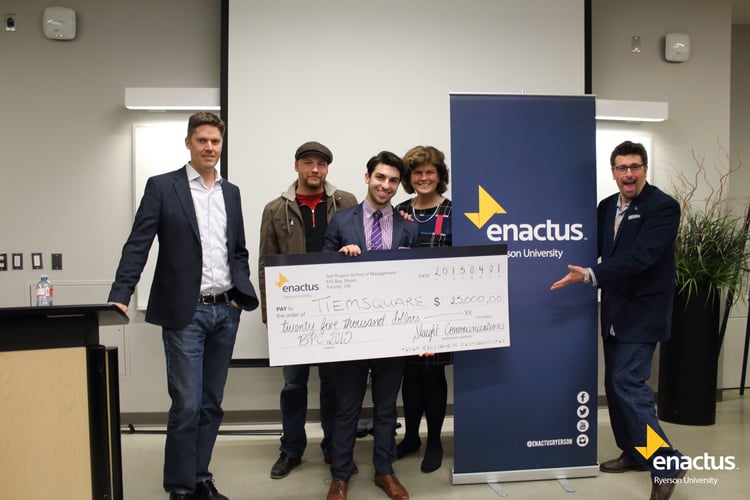 0( 0 REVIEWS )
0 STUDENTS
Instructors
The Ryerson $50,000 New Venture Competition is one of the largest-run student business plan competitions in Canada. The competition provides entrepreneurs the opportunity to create and bring a viable business venture idea to the market. Start-ups from any industry are welcomed to participate. The two finalists will receive $25,000 each to invest in their start-up.
Important Dates:
Applications close: March 15, 2016
6 Finalists selected: March 20, 2016
FINALS: March 28, 2016 at Ted Rogers School of Management
Finalists will present their business pitch to a panel of industry professionals.
Each startup team must follow the qualifications below to be eligible to compete.
Determine your eligibility:
Individuals enter the competition, one per startup
Only current or recently graduated (within 12 months of convocation) TRSM full time students are eligible (including Business, Commerce and MBA)
Startups must be less than 18 months old
Startup must be more than just an idea; should have begun customer development, be working on a MVP/ prototype, etc.
1 submission per startup
"For me, this competition has been a powerful confirmation that entrepreneurship is the path I would like to go down and it has given me the confidence to know that anything can be achieved once you set your mind to it. The Slaight Competition is an incredible opportunity for you to turn your ideas into tangible businesses. If this is something that excites you, even scares you, then definitely apply! There is nothing to lose, only a lot to gain and a lot to learn along the way."
– Marija Avramovic, Founder of Yoga Soda
"This competition is the best opportunity to demonstrate your entrepreneurial skills and abilities in a competitive environment, as a student. The mentorship we received was phenomenal, and the funding has allowed us to take our startup to the next level. Anyone who is serious about their business should definitely apply."
– David Ricci, Co-founder of TIEmSquare